Stories transport readers to new places.
A story that can spirit you away from your home or reading nook, and into another place or time, is certainly worth giving a spot on your bookshelf to.
And from the first chapter

Oak & Mistletoe

by J.Z.N. McCauley lifted me right out of my seat and whirled me away to Ireland for an tale filled with adventure, Druids, and a romance entangled in magic.
Read on for my thoughts on the book!
As well as my review, I also have an author interview with J.Z.N. McCauley for you guys to take a peek at! She was so lovely to chat to and gave me some great insights into Oak & Mistletoe and her writing process.
Title: Oak & Mistletoe
Author: J
.Z.N. McCauley
Pub. Date: October 11th 2016
Pages: 246
Genre(s): Fantasy
Synopsis:
A Druid Curse, A Prophesied Love, A Consuming Vengeance…
Catherine Green, along with her twin sister and older brother, travels to Ireland on a college graduation trip. Her vacation takes a permanent turn when she lands her dream job at an art and history museum on her beloved Emerald Isle. She meets a handsome stranger named Bowen, an expert of sorts on local ancient studies. Though their first meetings are turbulent at best, Catherine finds herself drawn to him.
Unaware that she is the key to breaking a hidden curse, Catherine unleashes the evil madman Conall and his druid followers, imprisoned since ancient times. Tragedy and loss ensue, sprouting within Catherine the deep seeds of rage that thrust her onto the damaging path of vengeance. Confused by the enigma that is Bowen, his mixed signals, and her own feelings, she is swept away with him on an unexpected journey surrounded by myth and long-forgotten knowledge. In order to stop the evil plans of Conall and his reunified army, Catherine must entwine her fate with peril. Her survival is trivial to her as long as Conall dies. She'll do whatever it takes.
The magic of the Emerald Isle is strong indeed.
From the physical beauty to the deeply inherent mythology and lore, there is a kind of subtle magic that envelops J.Z.N. McCauley's chosen setting. This magic is interwoven throughout Oak & Mistletoe's plot and from the very first chapter you want to know more about Ireland and its history.
Oak & Mistletoe focuses on three siblings, twin girls and a brother, in their early twenties - with an emphasis on one of the twins, Catherine. The siblings' familial connection to Ireland brings them there for a visit. But this brief visit is overshadowed by the death of their uncle...and his revelation to Catherine that something unexplainable, something almost magical, is connecting her to the Emerald Isle.
Years later Catherine's life, now permanently entrenched in Ireland, is upended once again. Circumstances out of her control arise when ancient curses and dark forces collide, forcing Catherine to risk everything to save those she loves.
O&M is filled with golden nugget quotes that will sweep you away.
The descriptions were detailed, balanced, and well worded. They strengthened the
emotional connection between the reader and the storyline.
One of my favourites (apart from descriptions of Ireland!) was the part where Catherine reflects on what she looks for in a man. I loved how the words '
smart and kind' were included - far too often in fiction superficial attraction is emphasised and qualities like kindness, intelligence, and respect are shifted to the sidelines. It was nice to see a heroine who was rooting for the nice guys out there!
Every character has the potential to be electric.
I've used this analogy in the past for reviews, but I'm a tea lover after all! And like any tea lover will tell you, different people enjoy different strengths when it comes to tea. Some people like their tea bags to seep for longer, for a stronger flavour. Others prefer to leave them in for only a few minutes for a more subtle taste. Neither option is bad...it's just up to personal taste.
When it comes to characters I'm more of a 'seeped for longer' kind of girl. I like characters who are multi-faceted, who have reached their full character potential and have had the chance to evolve and learn fully.
Oak & Mistletoe, for me, needed a tad more further development just so that the book's intriguing cast of
characters could reach their full potential. This would have boosted their already entertaining character
dynamics and dialogue.
Overall Oak & Mistletoe was a lovely read and I can't wait to see what JZN does next!
'
The rich colors helped him find peace
briefly. His love of the Emerald Isle was often on his mind. He'd roamed this same patch of land hundreds of times before. He knew a great deal of Irish land. While cursed he was bound to it, but even without the curse he was connected to it. His people believed in such a thing, and even though he was taught it as truth, he knew it was truth for himself
.'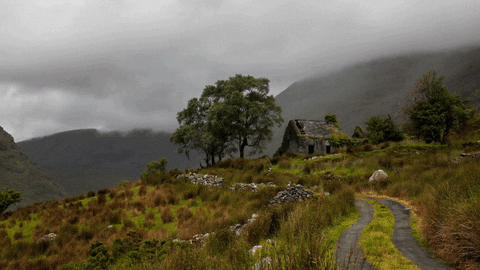 Booknut
: Thank you so much for agreeing to this interview today! It truly is a pleasure to have you on the blog.
J.Z.N. McCauley
:
Thank you for inviting me, it's great to be here!
Booknut
: Tell us a little about yourself. What inspired you to be an author? What is your favourite genre(s) to write?
J.Z.N. McCauley
:
Well, I'm a wife and mom. I like to sing and draw when I'm not writing or reading. I drink both coffee and tea, but my favorite is vanilla chai tea. I like Disney movies and Netflix, and I have too many fandoms to mention.
As for the next question, I can't say there was one specific thing that inspired me to be an author. I just know it was a childhood dream wrapped around my love of many adventure and fantasy stories ranging from books to movies. My favorite genres to write are fantasy, adventure, and historical fiction.
Booknut
: You're the author of the wonderful
Oak And Mistletoe
. What was your inspiration for the book?
J.Z.N. McCauley
:
I thought of Oak & Mistletoe from reading the history from the ancient druid ritual. I can't explain it, but somehow while I was half way through reading, it just came to me. In my mind, I saw Catherine, the curse, and Bowen. Everything else came together after that.
Booknut
: The title for your book is quite captivating. How do you come up with it?
J.Z.N. McCauley
:
I came up with the title Oak & Mistletoe from the ancient druid ritual as described in history. My story surrounds a situation involving the ritual and how the Celtic and other people used to find the oak tree sacred. I built on that with my own love of fantasy magic.
Booknut
: If you had to pick a favourite character to write about from
Oak And Mistletoe
who would it be?
J.Z.N. McCauley
:
If I must pick just one I think it would be Bowen. He has so much history, it would be so much fun to recount some other moments of his life.
Booknut
: Your novel features Ireland as its main setting. What made you choose Ireland as the book's 'stage'?
J.Z.N. McCauley
:
Like Catherine, I love Ireland. I enjoyed my time there, some of my loved ones are there, and I just love their myth and lore. Because of the latter, it was a perfect place for such fantastical events. Also, it's one of the places the ancient druids were, which made it fitting.
Booknut
: What is your favourite line or quote from
Oak And Mistletoe
?
J.Z.N. McCauley
:
Hmmm, I don't really have a favorite, but I do like the scenes when Bowen says "I have to do something that you're not going to like…"
Booknut
: What are you most excited for readers to experience in
Oak And Mistletoe
?
J.Z.N. McCauley
:
For this book, I think the fast-paced adventure and magic will be the most exciting for readers.
Booknut
: If you could tell readers one message or moral of the story to take away from
Oak And Mistletoe
, what would it be?
J.Z.N. McCauley
:
To pick one of the messages, I would have to say is that things don't always work out as we plan, but often it can turn out to be a great thing that they didn't.
Booknut
: Thank you so much again for sitting down with me! It was wonderful having you on the blog. I wish you the best of luck with all your future writing.
J.Z.N. McCauley
:
Thank you so much for having me, it was a lot of fun! And thanks for the luck!
A big thank you to J.Z.N. McCauley for taking the time to answer these questions!
Which book will you be adding to your TBR? Have you read any standout books this week?
Let me know in the comments below!
Although I was provided with a review copy by the author and/or publisher, all opinions expressed in the this post are purely my own. To find out more, please visit my
disclaimer
page.