Everybody loves a good villain.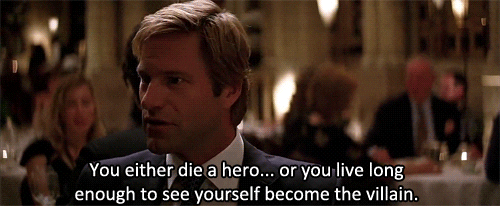 When my lovely friend Library Luv came up with the idea of us working on two guests posts a month for one another, we sat down to brainstorm a list of topic ideas. Choosing which one to start off with was a difficult decision! But we finally settled on a topic that had us delving into the world of villains and evil doers.
Running this blog has given me the chance to meet so many incredible people.
Who are the complete opposite of villains! One of these is book blogger Library Luv.
She runs Beyond The Book Reviews and
is a book blogger of mostly YA fiction. And can I just say that
I'm so excited to have her back on my blog! Working with her is lots of fun and her posts are always so creative.
So read on for Library Luv's 'Top Three Literary Villains' (you can find my list over on her blog
here).
Villains…
Throughout our reads, we look for the swooniest of swoon worthy characters. Now most of the time those are our leading male and female protagonists. But what if that wasn't always the case? We enjoy cheering on our main cast as they fight against the evil… but what if we aren't always cheering for the good side?
I can say that as a true bookworm I have danced on the dark side, and fancied that leading antagonist. What can I say? Everyone is human and has their temptations. I can also say that I have found myself applauding that leading antagonist because they are just simply brilliant in what they aspire to destroy.
For me it's all about how the villain is portrayed. If they are mysterious, completely badass and devilishly beautiful then chances are I am going to love them just as much, and root for them as well.
Today I am here on BookNut's blog to talk about my top 3 villains I just couldn't help but applaud.
My first villainous character would have to be the Darkling from the Grisha trilogoy by Leigh Bardugo. That Grisha is crafted of pure darkness. However, that doesn't make him any less desirable. In all honesty, I didn't particularly care for Bardugo's first Grisha series, however I cannot contain the amount of respect and love I developed for this villain. He was cunning and powerful. With enough people who feared him enough not to cross him. I love what he tried to stand for. I also LOVED that he wore black to signify who he was. Overall this man was utterly amazing, and made a series in which I didn't really like very much loveable.
My second villain would have to be Legend from Caraval by Stephanie Garber. This man was by far the best villain I have ever read about. He was so devilish deceiving that it made for one epic tale to be spun. He created a game that was as amusing and wondrous as a carnival except there were life and death situations to be had. He warned each player in advance in the dangers of losing one's sanity in the game, but did that change the tempt of the players? Not at all. His schemes were epic, his stories masterpieces, and his imagination was wild.
My final villain would have to be Jack the Ripper from Stalking Jack the Ripper by Kerri Maniscalco. Now I won't reveal the name of this character because I do not want to spoil, but BOY I didn't suspect until later. This character was mischievous, and mysterious. He also was quite the killer. Now I am not applauding him for the killings…because killing and murder is bad, but I am applauding not only the character, but the author for such a brilliant portrayal. I didn't fully suspect this character until it was too late. So that is what I am applauding for, the secretive and hidden identity was brilliant.
Sometimes we gotta love a little bad to do a little good in our lives…
Make sure you check out Booknut's post about her top three villains over on my blog Beyond the Book Reviews here.
Library Luv is a bookworm and a book blogger.
She loves to read and get lost in many books. She has lived a thousand lives, and sometimes they are even better than reality.
You can connect with Library Luv over on her Twitter page.