Now you see it...now you don't!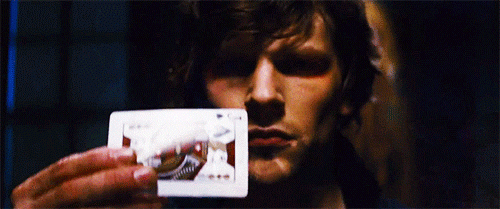 Magic has such an allure. Whether it's the kind of magic that involves wands and Nimbus 2000s...or the type that's entrenched in trickery and relies on sleight of hand. Magic and magic tricks are a world of wonder for the senses and the mind, encouraging us to second guess everything and question what is real and what is illusion.
Sebastien De Castell's

Spellslinger

weaves a tale centred around a protagonist who straddles the line between magic and con-artistery.
Thanks to Allen and Unwin and Hot Key Books I was able to obtain a copy for review. And let me just say, it was not an easy book to put down!
*No kings, queens, or jokers were harmed during the taking of these photographs.
Read on to find out my thoughts on Spellslinger. And be sure to let me know which De Castell magic band you'd choose to belong to in the comments below!
Spellslinger is the kind of fantasy that puts you in a trance.
There's no slow crawl to the main action, or a bunch of info-dumping paragraphs shoved between important plot points. It integrates the unique fantasy concepts organically, in a way that makes them easy for the reader's mind to pick up and adopt. This allows you to become fully immersed in De Castell's vivid world of magic and skilled illusion...so much so that when you finally do put down the book, it's still replaying itself in your head!
De Castell's imagination is a wild and wonderful place.
From the Jan'Tep and
Sha'Tep (
magical wielders and failed mages turned servants essentially wizards and Squibs for all you Potterheads!), to the tattooed 'bands' that children are required to 'spark'...there are just so many details to uncover and fangirl over.
I honestly thought that the tattoos and bands were such a unique way of determining a wielder's magic type, especially the way De Castell breaks down the different bands: iron (protective), e
mber (fire), br
eath (air),
s
ilk (mind manipulation), b
lood (physical manipulation), s
and (secret knowledge), s
hadow (emptiness and demonic).
This perspective on magic really set the stage for a pleasurable journey from the first page to the last.
Kellen and Ferius are total team goals.
I'm a fan of dynamic duos and these two definitely make the list! There is something so intriguing about their interactions and the way they compliment one another.
Kellen is burdened by loyalties and the complexities of the society he lives in. Ferius is a map drawer, with a fiery inner strength. There is this underlying push and pull between them, as they bring out different facets of one another. I also like how their relationship isn't burdened with an typical YA romantic expectations, which I wasn't expecting and really appreciated.
Overall, Spellslinger was a winsome read with tonnes of potential.
I was so happy to discover that this is the first book in the series and not a standalone! Although an enjoyable read, there was certainly room for improvement and growth - both in regards to Spellslinger's world and its characters.
It was very reminiscent of a lot of 'first books' that I've read in some of my favourite series. It introduces the world and characters nicely, but doesn't delve too deeply below the surface with them just yet. I'm hoping that the next book(s) allow the world and characters to reach their fullest potential and to wow us with more magical hijinks.
'I could see its pain so clearly in that moment. The anger. The fear. And I finally saw what Ferius had wanted me to see.

I saw myself.
I saw who I was and I saw the man I wanted to be.

I finally understood how that man was different from my friends and from my family, from my people. And I knew precisely what that man would do.

It was something very, very stupid.'
Spellslinger
By Sebastien De Castell


Genre(s)
:
YA, Fantasy, Magic
Publisher
:
Hotkey
Pub Date
:
May 2017
Page(s):
400
Price
:
$19.99 (AUD)
Summary:
There are three things that earn you a man's name among the Jan'Tep. The first is to demonstrate the strength to defend your family. The second is to prove you can perform the high magic that defines our people. The third is surviving your fourteenth year. I was a few weeks shy of my birthday when I learned that I wouldn't be doing any of those things.
Magic is a con game.
Kellen is moments away from facing his first mage's duel and the start of four trials that will make him a spellcaster. There's just one problem: his magic is gone. As his sixteenth birthday approaches, Kellen falls back on his cunning in a bid to avoid total disgrace. But when a daring stranger arrives in town, she challenges Kellen to take a different path. Ferius Parfax is one of the mysterious Argosi - a traveller who lives by her wits and the three decks of cards she carries. She's difficult and unpredictable, but she may be Kellen's only hope...
Will you be adding Spellslinger to your TBR? If you could belong to a magic band (i
ron, ember, breath, silk, blood, sand, or shadow)
which would it be and why?
Although I was provided with a review copy by the author and/or publisher, all opinions expressed in the this post are purely my own. To find out more, please visit my
disclaimer
page.